Camp is BACK for 2023!
Rediscover Your Play-FULL Self!
Come play at the MOST FUN summer camp for adults
Camp Is In Your Heart
October 12-15, 2023 in Deckers, Colorado
Who Is This For?
YOU! If you…
Love to learn.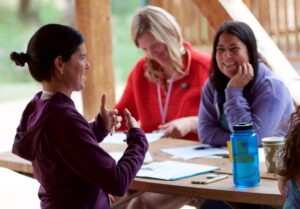 feel stuck.
want to have fun.
need a change of pace.
desire growth.
want a mini vacation with a lot of activity.
don't need drugs and alcohol to have a good time.
enjoy meeting new people.
don't enjoy boring conferences with power points
want to expand your horizons.
love creativity but don't always find the time for it.
Why Come?
No matter what you are seeking, CIIYH has it pretty much covered. The beauty of the camp experience is that no matter what you might need, you can pretty much guarantee camp will provide it in abundance. We'll have workshops on topics from breathwork to marketing. You can lean in to how to build your business, how to take better care of yourself, or just learn how to throw axes and rock climb all in the company of amazing humans.
The energy, wisdom, and power of camp tend to propel individuals back into their lives with a renewed sense of purpose.
The energy, wisdom and power of camp tend to propel individuals back into their lives with a renewed sense of purpose.

Do you need to let something go?
Camp offers a supportive environment to do just that! With lots of opportunities for self-reflection and a chance to "leave the noise of your daily life", you can recognize something is no longer serving you and decide to let it go.
Do you need inspiration?
Camp will definitely give you plenty of opportunities for inspiration from the people who show up fully for camp to the workshops, breakouts and experiential learning opportunities sprinkled throughout the weekend.
Is self-care or downtime what you need the most?
Then, this is the place for you! With optional daily yoga practices, chanting, reiki, meditative walks and the most amazing natural environment to immerse in, camp can really feed the soul. Nothing is mandatory and engaging in what will nourish your mind and body the most is definitely encouraged.
Do you need to get creative and embrace your silly side?
If you're looking for a summer camp that will provide limitless fun and activities, then this is the one for you! From dance parties to painting projects, costumes to body glitter, temporary tattoos to lake floaty fun, this camp has it all. It is the perfect place to explore your creative side and feel free and beautiful. Experience adventure and joy with your peers in an environment of acceptance and positivity. Sign up now for an unforgettable summer experience!
Are you seeking connection?
CIIYH is a great place to connect with people and explore new opportunities. It provides a unique platform for intimate one-on-one conversations, lively small group discussions, and memorable large group moments. Here you can find the perfect balance of meaningful connections and exciting experiences that will leave you feeling inspired and motivated.
(oh and you might even have anywhere between 1-80 new friends).
Are you just looking for the kid camp experience?
At our camp, we offer an unforgettable outdoor experience that blends nature and adventure into one. From bunk bonding and campfire songs to smores and chats under the stars, our camp activities provide an opportunity for growth and connection. We also offer a range of activities like axe throwing, paddle boarding, ropes course challenges and an amphitheater talent show that will keep your kids entertained all day long. Embrace your 8-year old and join us at CIIYH 2023!
What Happens?
CIIYH takes over the YMCA Camp Shady Brook in Deckers, CO, 90 miles southwest of Denver.
You'll be learning, relaxing, sleeping, eating, playing and creating together all weekend long!
There are separate bunkhouses for men and women and you'll be served delicious healthy meals each day starting with dinner on Thursday through lunch on Sunday.
Move your body by swimming, kayaking, paddling boarding, throwing axes, blazing through a ropes course and hiking.
Inspire your mind by choosing from 12 workshops lead by inspiring facilitators from all over the world about getting organized, improving your relationships, starting a business, getting unstuck and many more!
Expand your heart by connecting over campfires, taking the stage during the talent show, bonding with your bunkmates and expressing yourself in endlessly creative ways!
Deepen your connection by getting vulnerable, by giving someone the space to share their emotions and by becoming a more authentic listener.
View last year's schedule here.
FYI, no alcohol will be present throughout the weekend, so we can inspire each other to be the fullest version of ourselves.
 CIIYH 2023 Presenters
We have  creatives, thought leaders, and experts! Camp is In Your Heart 2023 has passionate individuals to share their knowledge and skills through workshops, presentations, and activities.
Take a look at our current lineup

How Much?
All of your accommodations, meals, outdoor activities and workshops are included for just $650. There will also be transportation from the Denver Airport for an additional fee.
A payment plan is available for those wishing to pay in installments. Please contact Torey at toreyivanic.com for further information.
Unfortunately, there are no refunds, but individuals can transfer their registrations to another camper if they can find someone to go in their place.
CIIYH is a commercial-free event, meaning there are no sponsors of any kind during the event.